4-8 June 2018. Pretoria. The Africa Food Safety Workshop 2018 promoted standards, reliable methods of analysis and inter institutional cooperation for better control of mycotoxins and related contaminants.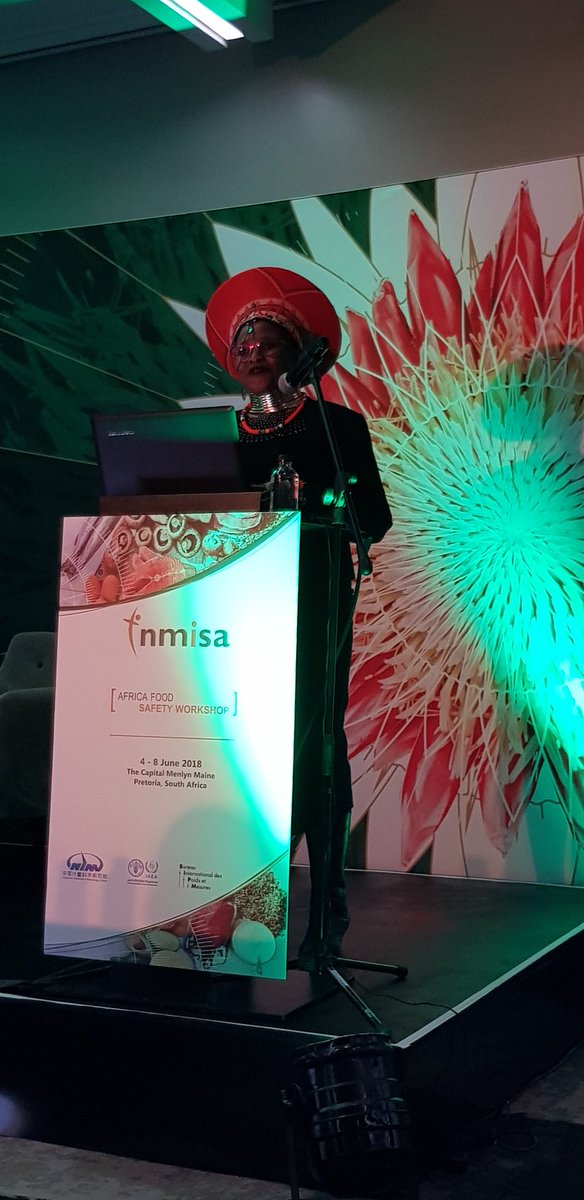 The workshops contributed to better food safety control systems in Africa while establishing and strengthening networks among food safety stakeholders. This workshop brought together experts within the analytical regulatory food testing laboratories and metrology institutes, researchers in academia, governmental and non-governmental food control programmes.
The workshop incorporated presentations and discussions with international experts on:
Standards and methods of analysis and control of mycotoxins;
Veterinary drugs and pesticide residues;
Food microbiology including linkage to antimicrobial use, residues and resistance;
Food traceability and authenticity.
Challenges and trends in multimycotoxins analysis

Prof Rudolf Krska

(University of Natural Resources and Life Sciences, IFA-Tulln, Vienna (BOKU), Austria, School of Biological Sciences, Queens University, UK)
Integrity and safety of the food supply in Africa – To include an introduction to: Mycotoxins, food safety and trade and Awareness

Ms Renata Clark

(Food Safety and Quality Unit, United Nations Food and Agriculture Organization – FAO, Rome)

An introduction to metrology and the African Food and Feed Reference Material Programme

Dr Maria Fernandes-Whaley

(NMISA, South Africa)
Rapid and inexpensive mycotoxin detection: A need of African countries

Dr Gordon Shephard

(Cape Peninsula University of Technology, South Africa)
Mycotoxins in food and their analysis in a developing and changing world Prof Sarah De Saeger (see picture) (University of Ghent, Belgium)
Proficiency Testing for Analytical Chemistry Laboratories organized in the East African Community and COMESA Countries

Mr Isaac Mugenya

(Kenya Bureau of Standards – KEBS, Kenya)
Integrated approach to mycotoxin control and PACA's experience

Dr Amare Ayalew

(African Union Commission, Ethiopia)
Determination of aflatoxin M1 in liquid milk, milk powder, yoghurt and cheese by HPLC Mr

Rajabu Mziray

(Tanzania Food and Drugs Authority – TFDA, Tanzania)
Mycotoxicology research at the University of Johannesburg

Dr Patrick Njobeh

(University of Johannesburg, South Africa)

Public Health and Trade Benefits of Mycotoxin Control in Africa

Dr Ranajit Bandyopadhyay

(International Institute of Tropical Agriculture – IITA, Nigeria)
Mycotoxin, capacity building challenges/opportunities visa vis International standards and trade

Prof Ardjouma A Dembele

(LANADA, Ministère de l'Agriculture, Cote D'Ivoire)
Food Safety Networking and capacity building in Africa

Dr James Sasanya

(IAEA) and Mr Ephraim Moruke (Department of Agriculture, Forestry and Fisheries, South Africa)
Integrated chain management for food safety in the SA dairy value chain

Mr Jompie Burger

(Dairy Standards Agency, South Africa)
This post was originally published at PAEPARD by François Stepman. It has been republished here with permission.